Since 1990, Ron's Taxidermy has provided taxidermy services for countless satisfied customers throughout the region. With expert knowledge and skill, we are the go-to service for taxidermy in Washington County, MN.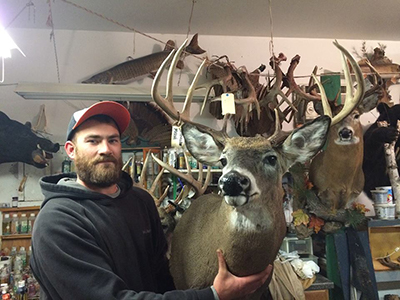 Our taxidermy services include everything from fish to big game to small game and birds. Do you need deer mounts in Washington County, MN? Do you have a prize pike you want to display? Ron's Taxidermy has you covered. We complete most projects within just two weeks.
Our full line of taxidermy services include:
Fish mounts: They won't ever call your catch a "fish tale" again! Bring your impressive walleye, pike or other fish to Ron's Taxidermy to proudly display proof of your winning catch.
Deer mounts: We expertly craft your deer into a professional deer mount or deer shoulder mount. With two decades of taxidermy experience, you won't find a better service for your deer mount in Washington County, MN.
Waterfowl mounts: The beauty of your waterfowl can be captured to enjoy for years to come. Ron's Taxidermy will expertly preserve your gorgeous bird.
Turkey mounts: We complete your turkey mount with attention to detail and take pride in our craftsmanship. Rest assured your prize turkey is in capable hands.
Small game: Ron's Taxidermy offers a wide range of services. We'll mount your bear, but we also handle beavers, foxes and other small game.
Most of our work is done on site, providing for personalized attention and quick turnaround. With a passion for hunting and mounting, Ron makes a personal investment in each project. As a hunter and outdoorsman himself, Ron is also a proud member of the Minnesota Bear Guides Association. Offering 25 years of experience and affordable rates, Ron's Taxidermy services delivers unmatched quality.
Contact Ron's Taxidermy for outstanding mounts of all sizes. From bear to bird, we are ready to create a display you're proud to present. Call us today at 612-240-5118.